Contact in the Desert
Michael Cremo will give a powerpoint presentation and workshop at Contact in the Desert August 9-11, 2013--an unforgettable weekend of exploration into ancient aliens, human origins, and UFO sightings. Other featured speakers are George Noory, Steven Greer, David Wilcock, Graham Hancock, Jim Marrs, Michael Tellinger, William Henry, Michael Salla, Jason Martell, David Sereda, Richard Dolan, Marshall Klarfeld, Carol Rosin, Travis Walton, William Brown, Laura Eisenhower, James Gilliland, Roger Leir, George Filer, Alfred Webre, Byron Belitsos, Paola Harris, Yvonne Smith, Suzanne Taylor, Celeste Yarnall, Steve Murillo, Douglas Taylor, Mark "Dr Dream" Peebler and Barbara Harris.

Visit this website to enter a special, limited time sweepstakes [May 21-30] to win tickets for this unprecedented event:
MY SCIENCE, MY RELIGION
Book Release
Michael Cremo's Academic Papers
1994-2009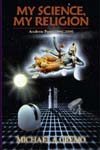 Los Angeles November 16, 2012 is the release date for Michael A. Cremo's newest work entitled My Science, My Religion . A collection of 24 papers that he has presented at academic conferences over the past 18 years, this collection offers a rare perspective of his synthesis of science and religion. To order advance copies please visit:

Michael Cremo's Stanford lecture
Michael Cremo delivered a lecture on Forbidden Archeology at Stanford University on April 27, 2012. Watch video at:

Forbidden Archeology Article Featured in
You are Still Being Lied To
The Disinformation Company Ltd. has released a new book entitled You are Still Being Lied To featuring an article on Forbidden Archeology by Michael Cremo which is provided as a pdf file below. The book can be ordered at You Are Still Being Lied To

Interviews

Lectures

Reactions to Forbidden Archeology
range from glowing praise...
"One of the landmark intellectual achievements of the late 20th century"
Graham Hancock, author of Fingerprints of the Gods

...to caustic ridicule

"Your book is pure humbug and does not deserve to be taken seriously
by anyone but a fool"
Richard Leakey, Anthropologist
Mr. Cremo's book has certainly turned the heads of the Scientific Establishment. After NBC?s Mysterious Origins of Man television special aired in 1995, Academia exploded in protest, lobbying the FCC to ban NBC and its sponsors from the airwaves. However, it is significant that censorship attempts failed to prevent the first program of its kind from broadcasting alternative views on human evolution via a major television network.

British Journal for the History of Science, Journal of Field Archeology, Social Studies of Science, Antiquity, and others.

REVIEWS
"Atlantis Rising"
Review of Forbidden Archeology's Impact - November 1998

"Internet Bookwatch"
Review of Forbidden Archeology's Impact- August 1998

"Public Understanding of Science"
Review of Forbidden Archeology's Impact - January 1999

"ISIS"
Review of Forbidden Archeology's Impact - September 1999

Controversial Findings Excavated by
the Authors of Forbidden Archeology
*We did not evolve from apes

*Abundant evidence against human evolution has been ignored

*Scientists cheat on a massive scale

*Museum displays use propaganda in promoting falacious ideas to the public

*Human beings were around before the time of the dinosaurs

*Signs of civilization have been found that are millions of years old

*Textbooks are inaccurate